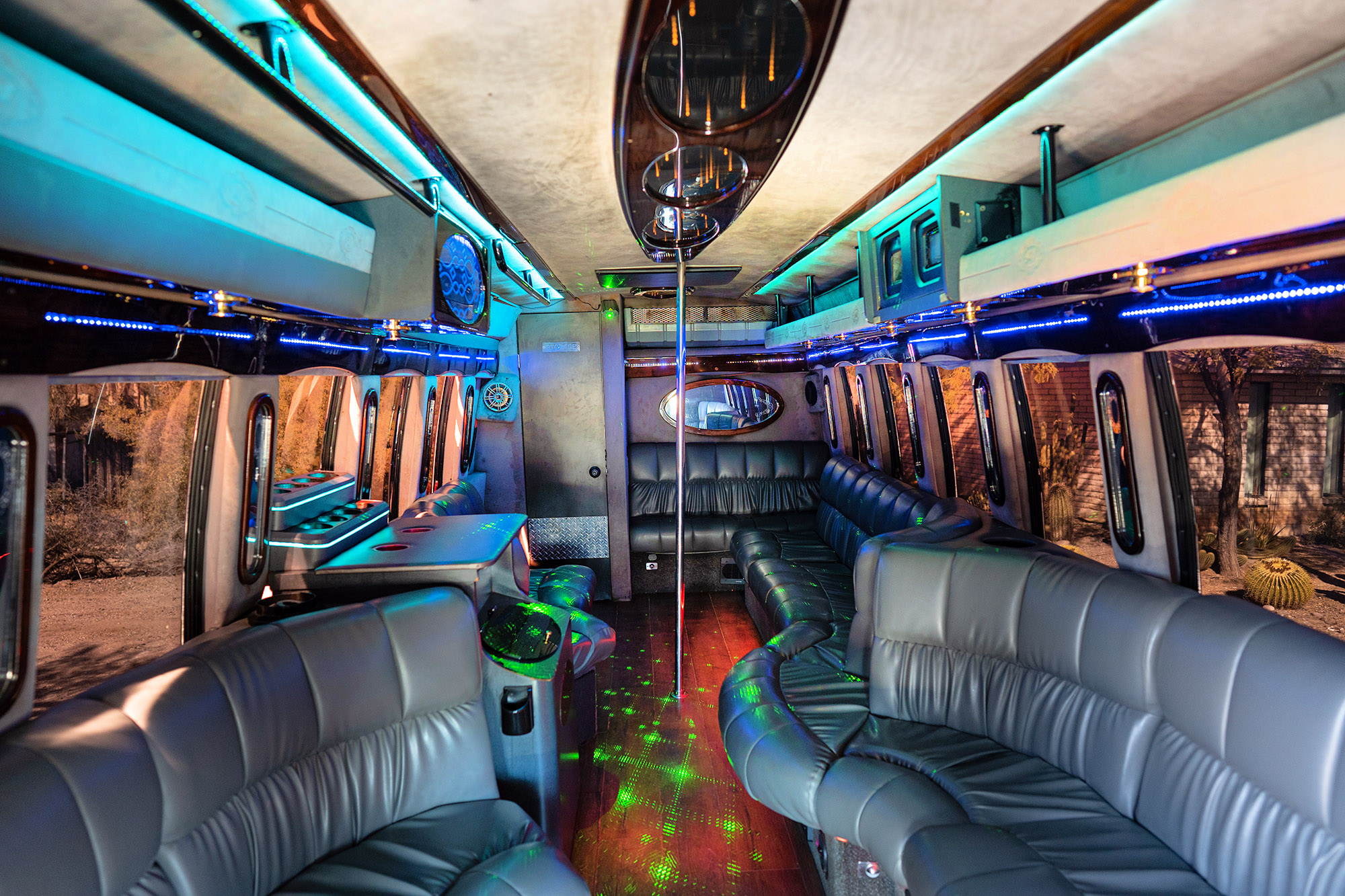 Party Bus Rentals in Peoria, AZ
Are you looking for Party Bus Rentals in Peoria, AZ? You have come to the right place! Our Peoria Party Bus services will make your event one to remember! Celebrating, well – anything, is our jam! We love Bachelor and Bachelorette Parties, Weddings, Birthdays, and Quinceañeras. Like you, we have a great sense of humor and we LOVE to laugh and have a great time. We are excited about making your special evening one for the record books.
Here are a few reasons you should rent a party bus with our company for your special occasion in Peoria:
Licensed and Screened Drivers
We vet all of our drivers for your safety. They are licensed and trained to safely operate all of our large buses. You can feel comfortable partying with your group with drinks in hand! Their smooth turns and easy take-offs will ensure no jolting movements – after all, the last thing we want are spilled drinks on your outfits due to our driving!
Nosotros hablamos español
What To Expect When You Book a Peoria Party Bus Rentals
We have many party buses for you to choose from to cater to your group size. Choose between a fleet of six party buses!
Each bus offers a professional chauffeur for the night, unlimited stops, guest pick-up and drop-off, stripper pole, Bluetooth, coolers, trash, and LED party lights!
Which Party Bus Size Do You Need?
Lake Pleasant Party Bus
If you're looking for lake transportation, our party bus for Lake Pleasant transportation is a popular choice. Often scheduled for a birthday celebration or bachelor party, our Limo Party Bus offers guest pick-up and drop-off. While our screened and licensed driver chauffeurs your group to and from Lake Pleasant, you can let loose and party on the bus. The coolers are filled with ice and water, and will keep your drinks cold while you are boating, tubing, or paddle boarding. We'll also keep your playlist going! If you rent a 25+ passenger party bus, they comes with a bathroom. Now that's how you party on a lake! Contact us to request a price and get a quote within 15 minutes!

Request A Quote from Glendale Party Bus
Ready to start making plans for your special occasion? If you are curious what the party bus cost would be, request a free quote by calling us at 1-602-609-4004 or fill out the form and get a quote within 15 minutes! Solicitar presupuesto.