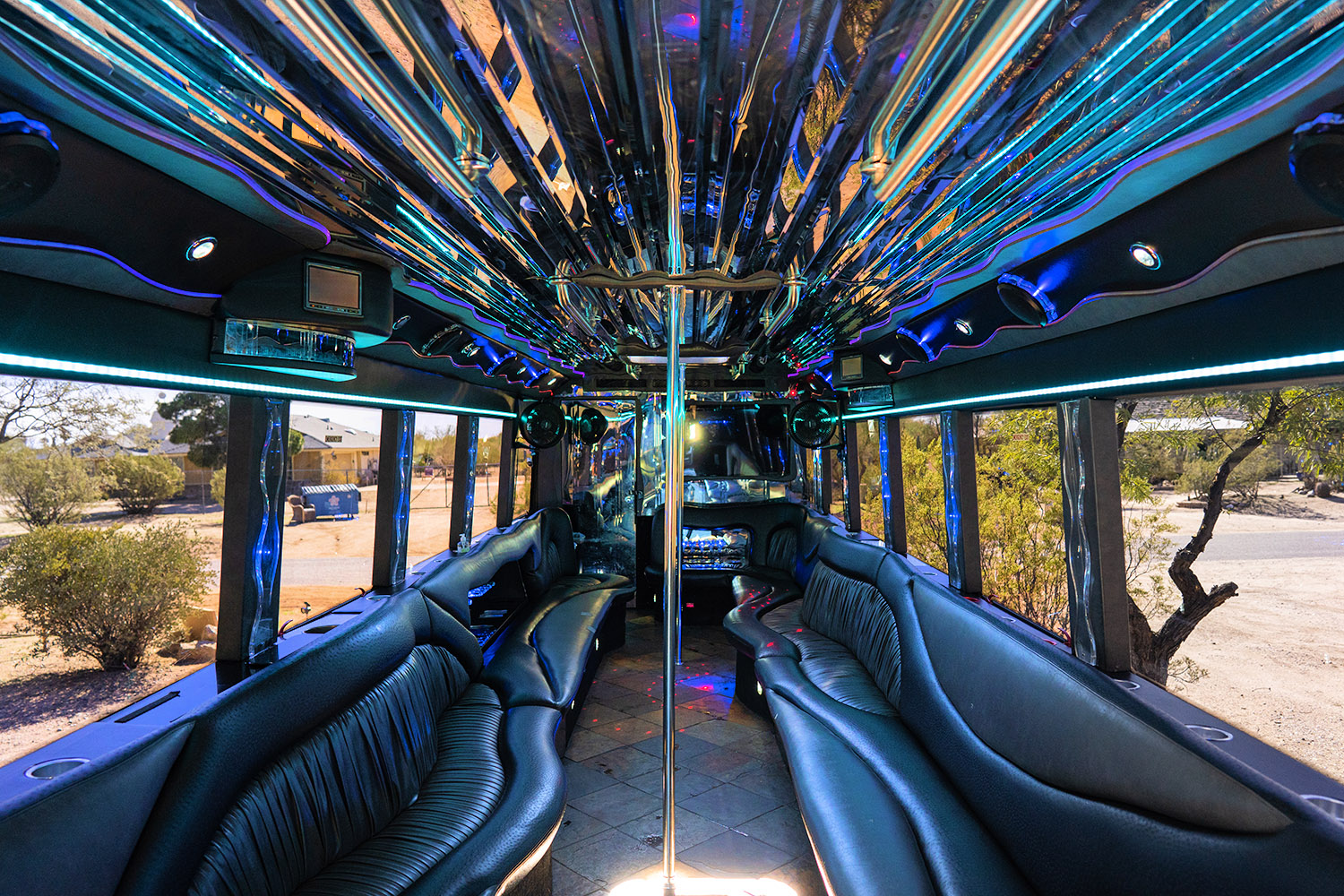 Party Bus Rentals in Scottsdale, AZ
We offer party bus rentals in Scottsdale, AZ! We are not your average Scottsdale transportation service – we also offer memorable experiences that last a lifetime. Are you looking for unique things to do in Scottsdale with a large group of friends? We got you and your group covered!
Party Bus Rentals for Special Occasions
Whatever the occasion, rent a party bus in Scottsdale, AZ. We specialize in bachelor and bachelorette parties, birthday celebrations, wedding transportation, prom, quinceañeras, and bar hopping in Old Town Scottsdale. When you choose our company for your party bus service, you get unlimited stops which come in handy for guest pick-up and drop-off – and even a fun night of clubbing with your friends. Our licensed drivers will safely transport you and your group while you party on and off the bus!
We are also bilingual! Nosotros hablamos español. Ofrecemos paquetes para quinceañeras y bodas!
Old Town Scottsdale Party Bus
If you are looking for an Old Town Scottsdale Party Bus, then you are probably already familiar with this downtown neighborhood. This charming cluster of quirky restaurants, some of the best hangouts, live bands, and a popular night life will offer plenty to do.
Rent a Party Bus in Old Town Scottsdale for a birthday, bachelor party, bachelorette party, or just a fun night out with friends. If you aren't familiar with what downtown Scottsdale has to offer, then reach out for recommendations to add to your itinerary.
We Have a Fleet of All Sizes
Whatever your party size, we offer a selection of sizes to fit your needs. Whether you need a small party bus or a large party bus, we have many to choose from.
Our limo party bus selection includes a fleet of six to choose from.
Each party bus offers coolers to keep your drinks cold, Bluetooth to keep your favorite songs playing all night long, LED and laser lights, and even a stripper pole or two! Our 25+ passenger buses even have a bathroom on board. We'll be your designated driver all night long – so let lose with your friends and we'll handle getting everyone home safely.
Which Party Bus Size Do You Need?

Request A Quote from Glendale Party Bus
Ready to start making plans for your special occasion? If you are curious what the party bus cost would be, request a free quote by calling us at 1-602-609-4004 or fill out the form and get a quote within 15 minutes! Solicitar presupuesto.