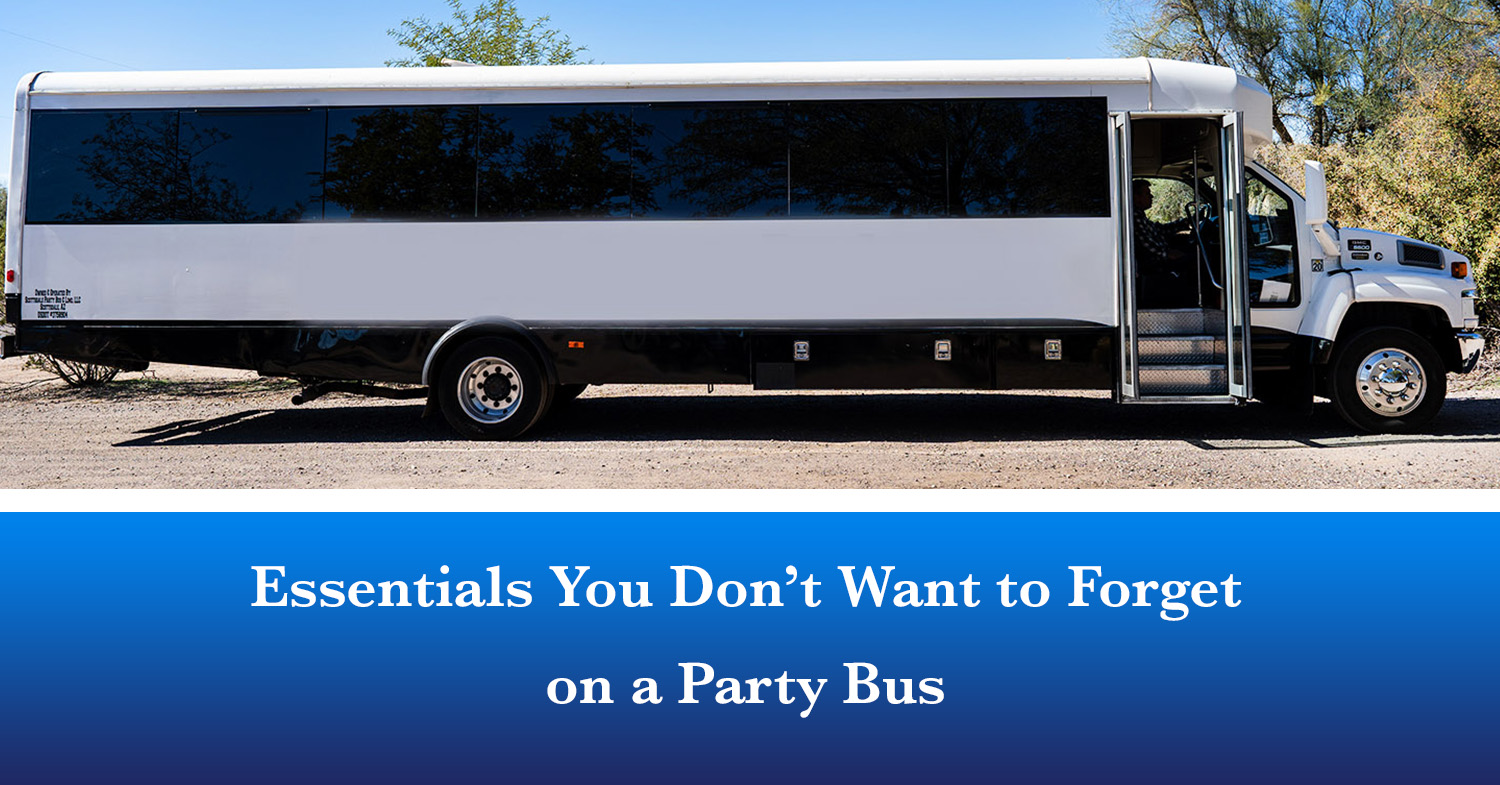 Before you head onto your party bus, there are a few essentials you can bring to make the most of your event. Here's a list of what you don't want to forget!
Your Favorite Drinks
One of the best things about party buses is you can start the pre-game the moment you step onto the bus! Having something to wet your whistle during your ride will help save money in the venue(s) you visit, and it will get the party started well ahead of time. Here's what we recommend:
Liquor: Liquor is a great option if you're getting ready to go out to clubs or bars or just want to get the party going right away. If you're wanting to have mixed drinks, we recommend mixing a few ahead of time and putting them in covered pitchers. That way, you don't have to mess around with making them while on the bus.
Wine: Whether you're headed to a bar or taking part in a wine tour, starting off with wine can make for a fun time. You can pick a brand that your group knows, or you can test everyone's taste buds with something no one has tried before. We recommend drinking white wine rather than red though. Even though the ride in a party bus is smooth, you never know when your driver will make an abrupt stop for everyone's safety.
Beer: You'd be hard-pressed to find a party without beer and for good reason! Beer not only tastes great and keeps the party going on longer (no getting too drunk too early), but it also comes in its own container, so you don't have to worry about bringing your own.
Water and juice: If some members of your group aren't big into alcohol, don't forget to bring something along they can drink. Having water on board is also great so you and your crew can stay hydrated throughout your time on the bus.
Party Decorations
Party buses aren't just ordinary buses. They tend to include amazing sound systems, LED and laser lights, and sometimes, even a stripper pole. Why not top off the experience by bringing your own party decorations to really step up the atmosphere?
Depending on the occasion, you can add your own personal flair to your party bus. Bachelor and bachelorette parties are excellent opportunities to throw a theme into the mix. A banner and some themed party favors can help make the time on the party bus extra special for the future groom or bride.
But even if you aren't celebrating anything in particular, it's always fun to bring confetti and balloons. These items will bring your event to the next level. Just remember you'll have to clean the decorations up at the end of the night, so only decorate what you're prepared to clean up.
The Ultimate Playlist
Party buses come with state-of-the-art sound systems perfect for playing your favorite tunes. So before you go out, don't forget to make the ultimate playlist for your ride! Make sure when building the playlist, you keep the theme and your guest in mind. You want music to be liked by the majority of your crew. Plus, music that everyone loves makes for the best experience!
Your Personal Items
It goes without mentioning, but make sure you have your essential personal items with you when you get on the bus AND when you leave the bus. Check to make sure you board and leave with these essentials:
Phone and portable charger: you want to be able to stay connected while on the party bus and at your venue(s), so make sure you bring a portable charger with you. This is great to have on hand in case your phone begins to die, or if someone else in the group needs a charge boost.
House keys: check before you leave that you have your keys in your pocket or bag. Place them in a secure place on the bus or give them to a trusted friend that will stick by your side if you think you'll have a hard time keeping track of them.
Personal medication: if you need to take medication during your party bus ride, make sure you bring it along. You may also want to set reminders on your phone so you know when to take your dosage.
Cash
You never know when you're going to need cash! Whether for an admission fee into a club or to buy some food or drinks, it's good to have at least some cash on hand. At the end of your ride, you can also tip the driver if you think they did a wonderful job. It's up to your discretion, but the chauffeurs really appreciate it.
Extra Pair of Comfy Shoes
Ladies – we're looking at you. Heels often look great and are the perfect way to top off your cute outfit, but after wearing them all night, your feet might become sore. How amazing would it be to get on your party bus and slip into a comfy pair of shoes at the end of the night? We'll tell you right now – it's the best feeling. So before you head out the door and load onto the party bus, don't forget to grab an extra pair of shoes to store on board!
Keep the Party Going with Glendale Party Bus
With all these essentials on deck, you're ready to have a great night on your party bus. Ready to rent one? Glendale Party Bus is ready to make your lake day an unforgettable experience! We have a fleet of party buses for you to choose from that each offer special features inside, a licensed driver to chauffeur you, and attentive customer service. Our party buses are ready to pick you up in Glendale, Peoria, Phoenix, and Scottsdale. We look forward to being your chauffeur and helping you create a memorable experience!

Request A Quote from Glendale Party Bus
Ready to start making plans for your special occasion? If you are curious what the party bus cost would be, request a free quote by calling us at 1-602-609-4004 or fill out the form and get a quote within 15 minutes! Solicitar presupuesto.