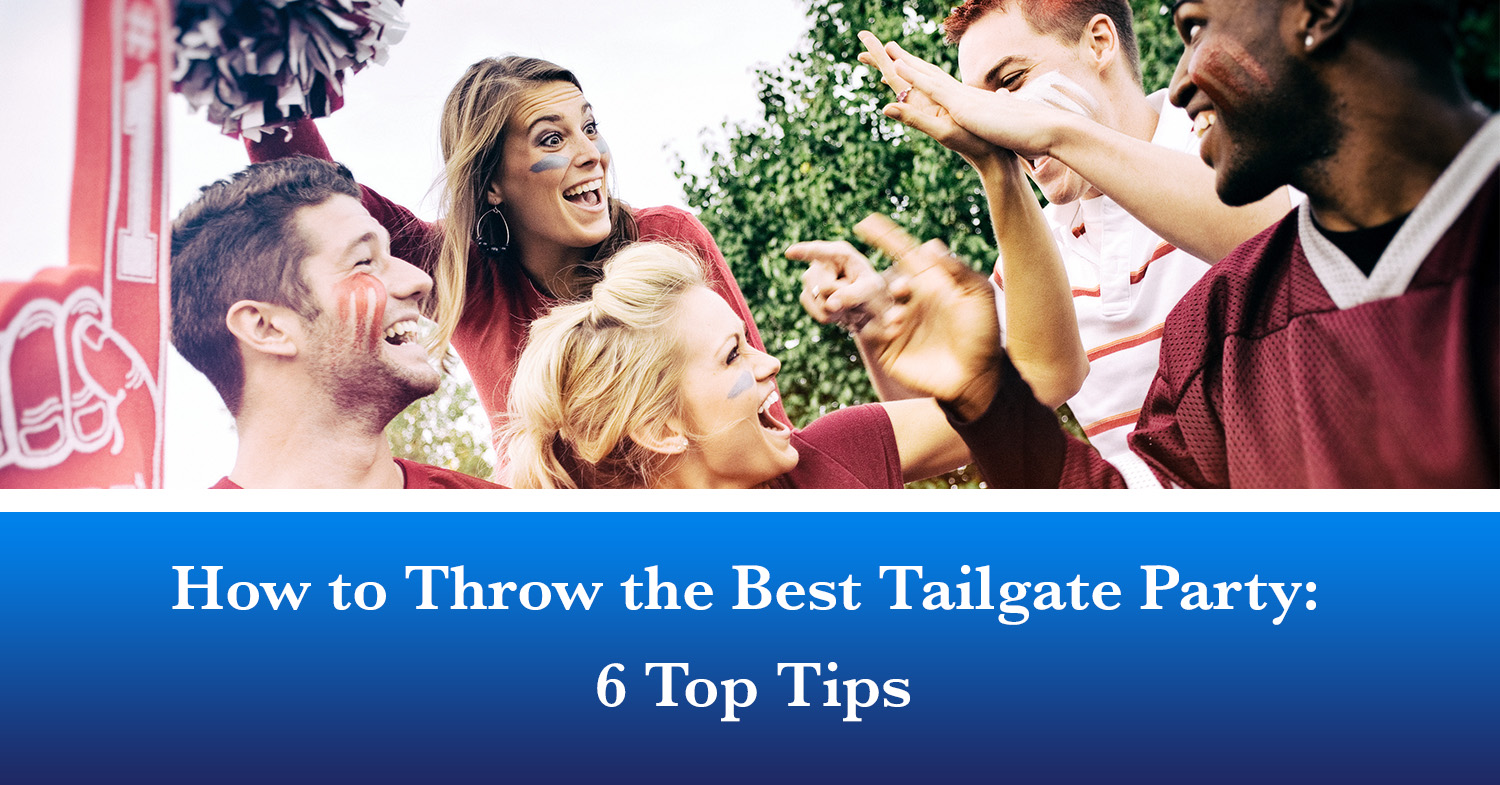 Ready to start planning a killer tailgate party? Here are some tips to help make sure you score big at your next gameday party!
Prep What You Can the Night Before
One of the worst things you can do is wake up the day of your tailgate party and expect to get everything done that morning. Talk about setting yourself up for a stressful day! You deserve to enjoy a fun day, too, so don't rush and waste precious time making food and packing equipment you could've organized the night before.
Prepare any food and drink mixes in the days before your tailgate and ensure they're done and packed, ready to go the night before. This can include fruit salad, dips, and cold sandwiches. For food you want to prepare fresh when you're there, prep as much of the ingredients as you can beforehand – cut the veggies, measure out spices, and mix the marinade. This way you can grab, open, and combine when your guests get hungry.
Adhere to a Schedule
To make your tailgate party a true success, you need to adhere to a schedule. This may seem a little high maintenance and like it will put a damper on the party, but you'll be thanking yourself when everything is cleaned up and put away on time, allowing you and your guests to walk into the stadium or sit down on the couch on time, ready to enjoy the game.
If you're heading to the stadium parking lot, it's recommended to plan to arrive four hours before the game starts and eat two hours after you arrive. This will give you plenty of time to set up, clean up, and pack up before it's game time. Just make sure you send out a finalized schedule to your friends and family so they can plan to arrive accordingly.
Bring Plenty of Food and Drinks
The worst thing that could happen at your tailgate party? Running out of food and drink. After all, good food and strong drinks are what a tailgate is all about.
We mentioned prepping food and drinks the night before, but above all, make sure you have enough for the big day. Stock up on plenty of beers, sodas, and mixers, and don't forget to grab bottled water to stave off the hangover. One or two big-batch cocktails can be mixed and refrigerated the night before, so it's ready to go at your tailgate party.
And don't forget to stock up on food. Burgers, hotdogs, mac and cheese, slow-cooker chili, and casseroles are all crowd-pleaser meals that you can make big batches of. Once you have that sorted, focus on the snacks. Dips, chips, and classic appetizers will always hit. If you make something football-themed, that's even better!
Bring the Team Spirit
While you'll be focused on throwing the ultimate tailgate party, remember to have fun and show off your team spirit. Decorate your car, your backyard (if you're hosting at home), your face, and even your kids! Fun apparel, face paint, a themed drink – do what you can to cheer on your team and have some fun.
Don't Forget Games and Other Essentials
Whether in the parking lot or your backyard, it never hurts to bring games and other activities to keep everyone entertained.
Bring fully charged speakers so you don't run out of music, and have a frisbee, deck of cards, a football, cornhole, horseshoes, and maybe even giant Jenga on hand. If you're going to be tailgating in a stadium parking lot, double-check with the rules to make sure drinking games are allowed. At State Farm Stadium, drinking games are not permitted while tailgating.
While you need games and fun on deck, don't forget the other important equipment. Make sure you bring chairs, tables, coolers, condiments, and clean-up supplies to ensure your party goes off without a hitch.
Hire a Party Bus
Hosting a tailgate party is a blast, but it doesn't come without stress. Gathering the supplies, finding parking, cleaning up, and driving through traffic to and from the stadium can be a hassle. If you want to throw the best tailgate party and also enjoy it for yourself, consider renting a party bus!
Host your party at your home and enjoy cooking and partying without having to worry about transferring food and cooking in the parking lot. When it's time to head on over to the stadium, grab some drinks and load up with your friends on your party bus. You can pregame, get hyped for the game, and blast your favorite tunes while you ride on over. The best part: no stressing about game day traffic or finding a parking spot. Your chauffeur will handle all that for you, so you and your friends can roll up to the stadium feeling hyped and ready to cheer on your team. At the end of the game, if your team loses, lament the defeat in comfort and luxury on your ride home. If you win, you get to celebrate in style!
Let's Get This Party Started!
If you're looking to make your tailgate party unforgettable with a party bus, Glendale Party Bus is ready to help you.
We have a fleet of party buses for you to choose from that each offer special features inside, a licensed driver to chauffeur you, and attentive customer service. Our party buses are ready to pick you up in Glendale, Peoria, Phoenix, or Scottsdale and provide transportation for game day. We look forward to being your chauffeur and helping you create a memorable experience!
Table of content
Recent Articles

Request A Quote from Glendale Party Bus
Ready to start making plans for your special occasion? If you are curious what the party bus cost would be, request a free quote by calling us at 1-602-609-4004 or fill out the form and get a quote within 15 minutes! Solicitar presupuesto.