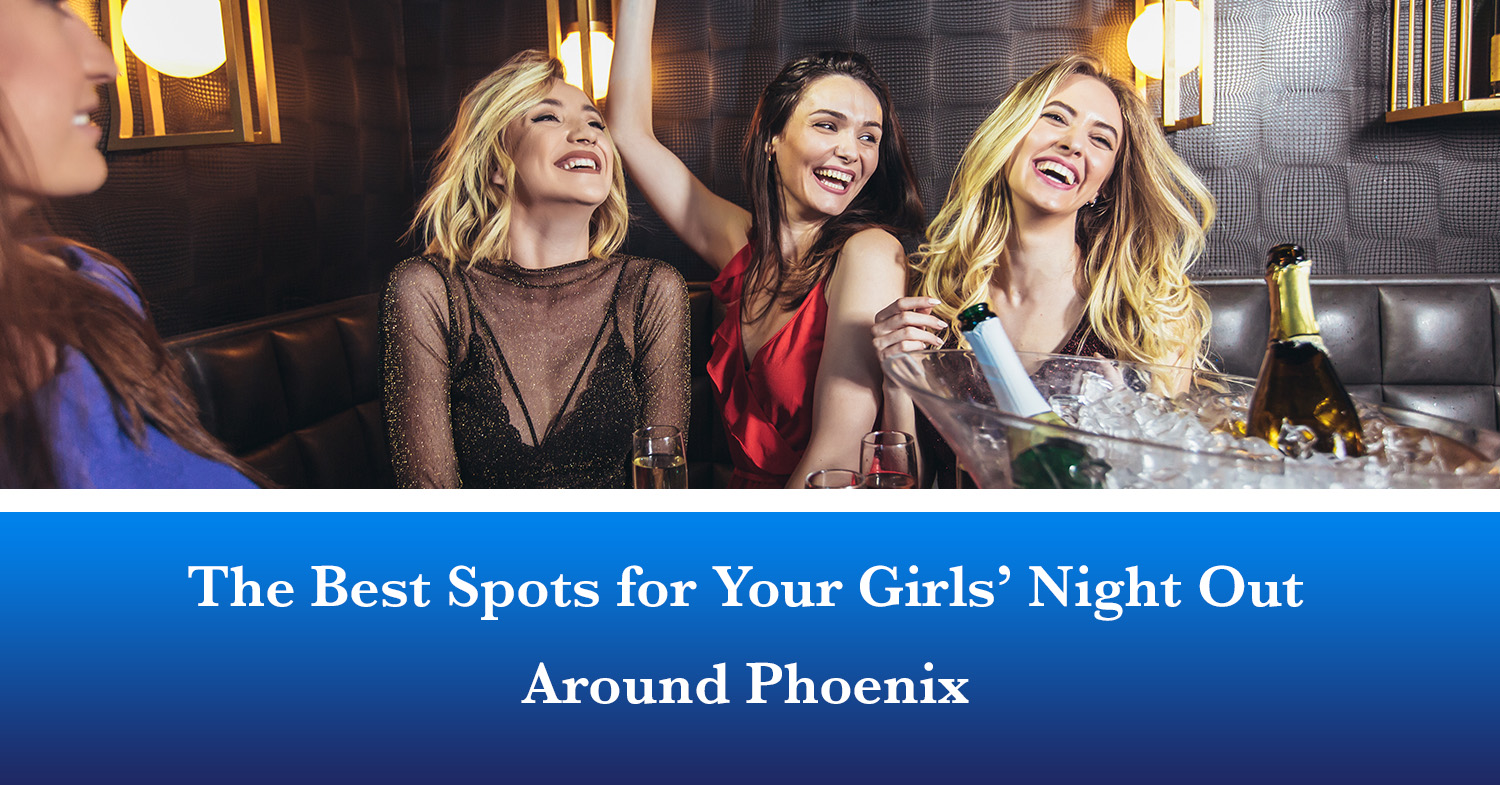 Ladies – are you looking for fun spots for a girls' night out? Here are our top spots to check out around Phoenix!
Floor 13 Rooftop Bar
There will be no bad luck when you hit up Floor 13 Rooftop Bar with your girls. This bar, located on the 13th floor of the Hilton Garden Inn in the heart of Downtown Phoenix, offers a rooftop terrace with a breathtaking view overlooking the Phoenix skyline. Sip on wines by the glass, beer, or the real stars of the show, their crafted cocktails. With ten different cocktails to choose from, there's something to suit every girl in your group.
While you and the girls sip and gossip, you can also enjoy little bites like truffle fries, street corn, or a charcuterie board. If you're in the mood for something sweet, don't worry, they got you covered with their choice of caramel dulce delight or key lime cheesecake. This truly is the perfect spot for your girls' night out!
Stardust Pinbar
This isn't your typical girls' night out spot, and that's what makes it so much fun. This pinball lounge has it all: a light-up dance floor, retro artwork on the walls, neon everywhere, pinball machines to play, and rock-and-roll-inspired drinks. The best part – there's a menu that offers pizza, garlic knots, wings, fries, and salad. So when the night is done, your feet are aching, and you've put away quite a few drinks, you don't need to head somewhere else or order food to your home for a late-night snack.
We should also mention the door to this place is hidden inside Ziggy's Magic Pizza Shop. Just look for the walk-in freezer door, and enter a glammy new dimension with your girls.
Stand Up Live
Looking for somewhere you can grab a drink with your girls but do something other than sit and chat? Head on over to Stand Up Live for your fun night out. Stand Up Live is a comedy club and lounge where you can catch some national headlining comedians in Downtown Phoenix. Enjoy a cold cocktail and laugh it up with your group!
Some things you should know before attending: Seating is on a first-come, first-serve basis, so it's best not to show up too late to your show. They don't accept tickets purchased through resale sites but don't worry, they sell tickets 24 hours a day on their website. Or, you can call their box office to grab your tickets.
MercBar
If you're craving a girls' night out where you dress up and look good with your girls, MercBar is here to serve as your hot spot. You'll love the classy experience of sipping cocktails in this high-style speakeasy-feeling bar.
Getting into MercBar can be a little difficult, as it's in an under-the-radar location at The Esplanade. The only signage is a tiny golden plaque by its front door. But when you find it, you'll slip into its dim interior, sink into a plush seat, and enjoy a delicious craft cocktail with your girls. As mentioned, this is a bar you'll want to dress up for, as they have a dress code (business casual). Use this opportunity to put on something you don't usually wear and enjoy a classy night out with your ladies.
The Brush Bar
Get creative on your night out by heading over to The Brush Bar with your girlfriends! This is a Scottsdale company that offers paint classes and drinks. This is the perfect place to unwind, get creative with friends, and have a few glasses of wine.
During your course, you'll sip wine (or beer, or hard seltzer – they have options!) and get step-by-step instructions from an artist on recreating a beautiful painting. Paint a secret garden, aspen trees, or even Starry Night Saguaros. Register for a class on their website and get ready to sip and paint!
Let Us Help You Have the Best Girls' Night Out
Whether you want to enjoy a night out with the girls at one of these spots or hit a few of them in one night, transportation can be a bit of a challenge. Rideshares are an option, but you may have to split up your group. Or someone may have to be the designated driver and miss out on some of the fun. Don't feel like you have to choose one unfun option or the other – let Glendale Party Bus help you have the best girls' night out ever!
We have a fleet of party buses for you to choose from that each offer special features inside, a licensed driver to chauffeur you, and attentive customer service. Our party buses are ready to pick you up in Glendale, Peoria, Phoenix, and Scottsdale, and drive you to your bar (or bars) of choice. We look forward to being your chauffeur and helping you create a memorable experience!
Table of content
Recent Articles

Request A Quote from Glendale Party Bus
Ready to start making plans for your special occasion? If you are curious what the party bus cost would be, request a free quote by calling us at 1-602-609-4004 or fill out the form and get a quote within 15 minutes! Solicitar presupuesto.