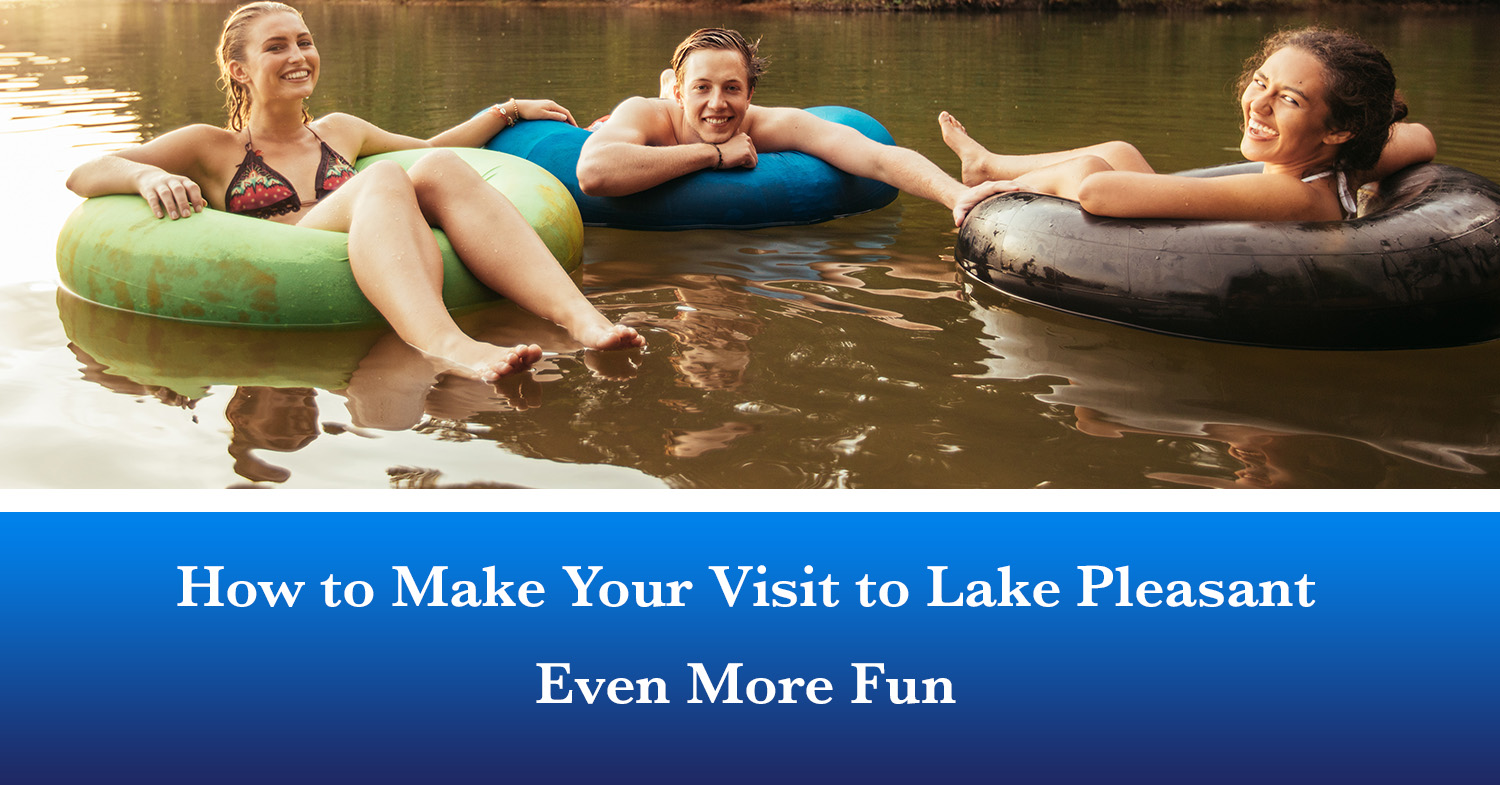 Thinking about having a day at Lake Pleasant? Whether it's for a bachelor party or a birthday celebration, here's how you can make it even more fun and memorable!
Pack Properly
When planning for your day at Lake Pleasant, one way to make sure you have a good time is to prepare and pack early. Everyone will be excited for the day, and that means things can be easily forgotten about. Don't leave behind your sunscreen or towels because you're racing to get to the lake. Pack early and make sure you bring along all the essentials.
Here are a few essentials you don't want to forget:
Sunscreen – bring a lot, especially if you're going to be visiting Lake Pleasant with a big group. Sunburns can ruin lake days, so make sure you and everyone in your group are reapplying regularly.
Hats – Another great addition to sunscreen. Bring along a hat to help keep the sun out of your face.
Towels – You're going to want to bring a ton of towels. Why? So you can have nice, soft ones to dry yourself off with the dingier ones to sit on.
Floaties – Swimming in the lake is fun, but it can be tiring to do it all day. Enjoy the water without having to tread in it by getting some inner tube floaties.
Cooler with lots of ice – To keep all your delicious drinks cold, of course! Pro tip: put your drinks in first, then ice, then snack that must be kept cold for optimum chilling.
Extra clothes – When it's time to head on home, nothing is better than having a nice dry set of comfy clothes waiting for you. Some advice – try to avoid denim for your change of clothes. It's not fun to squeeze into tight denim over damp skin, so just bring something soft and easy to get into, like sweatpants.
Portable charger – Don't let your phone die! Keep it going all day with a portable charger.
Water – The lake is the place to kick back and relax, but you also want to remember to stay hydrated. Bring along lots of waters and drink them throughout the day.
Get Creative with Your Food/Snacks
Not every day is a lake day, so why not celebrate that with fun food and drinks?
A classic idea that everyone loves is a good ol' BBQ. Lake Pleasant does have multiple areas with grills and picnic tables, just remember that they are first come, first serve. If you want to keep it simple, make food ahead of time and pack it up to picnic while you're there. Pasta salads, sandwiches with special meats, and chocolate-covered strawberries (keep them in your cooler!) are all picnicking foods that will make your day just a little more special.
 Plan Activities Ahead of Time
There's so much to do at Lake Pleasant, it can be easy to show up and not know where to start because there are so many options. To help you make the most of your lake day, plan your activities with your family or group of friends ahead of time. That way, you can enjoy your day at the lake to the fullest!
Not sure where to start with ideas? Here are a few for you to pick from:
Swimming – the classic lake activity that doesn't cost you anything extra. Cool off in the water, go for a leisurely swim, or play some games in the water with your friends and family.
Hit the floating water slide – Lake Pleasant is home to the world's largest floating water slide – the H2 Whoa! This floating platform launches riders into the air for a big thrill.
Boating – Lake Pleasant is a water enthusiast's dream, with boating, kayaking, and wakeboarding among some of the most popular activities. Whether you bring your own boat or rent a boat for the day, you're going to have the best time.
Fishing – The fish are biting at this lake! During the summer, you can head into the deeper water, where you can try and catch white bass or stripers.
Paddleboarding – Go Paddle AZ offers rentals and classes, including paddle board yoga on the calming water of Lake Pleasant. If you haven't tried paddleboarding before, it's a must-do!
Start a New Tradition
Spending the day with loved ones, hanging out, and laughing is one of the best things about lake days. To make it even more special, make a new tradition for when you have lake days.
It doesn't have to be extravagant. It can be starting the day with a piece of watermelon, ending the day with S'mores, or playing a certain game. But starting a tradition for lake days is a beautiful way to bring everyone together and create memories.
Book a Party Bus
Party bus rentals aren't just for special occasions! They can be for your trip to the lake to make the day even more fun and exciting. All you have to focus on is making sure you're all packed and ready for your lake day. No worrying about traffic, parking, or if you're sober enough to drive home. A party bus will get you and your group to and from the lake safely and in style.
Glendale Party Bus is ready to make your lake day an unforgettable experience! We have a fleet of party buses for you to choose from that each offer special features inside, a licensed driver to chauffeur you, and attentive customer service. Our party buses are ready to pick you up in Glendale, Peoria, Phoenix, and Scottsdale. We look forward to being your chauffeur and helping you create a memorable day at Lake Pleasant!
Table of content
Recent Articles

Request A Quote from Glendale Party Bus
Ready to start making plans for your special occasion? If you are curious what the party bus cost would be, request a free quote by calling us at 1-602-609-4004 or fill out the form and get a quote within 15 minutes! Solicitar presupuesto.